Who's Your Voice?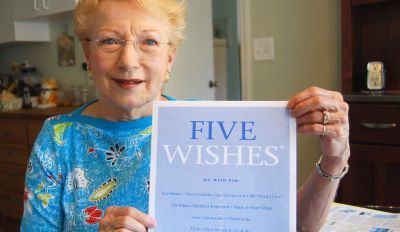 If you've been thinking about completing your advance directive paperwork but are not sure where to start,
Talbot Hospice can help.
Talbot Hospice is at the forefront of promoting the importance of advance care planning in our community. Our goal is to encourage as many people as possible to understand their choices at the end of life, to complete their advance directive paperwork, and to share their wishes with their loved ones and health care providers. 
Studies show that 90% of Americans believe it is important to have these discussions with their families, yet less than 30% have done so. The consequences can be devastating, particularly when family members in the throes of emotional distress must make decisions while guessing what a relative would have wanted.
Every second Tuesday of the month from 11-12:30, staff and volunteers are available to help you navigate and complete the documentation including the Five Wishes. Call in advance to secure an appointment with a trained professional who can take you through each scenario and help you understand the implications of your choices (410-822-6681). Walk away with your documentation on a thumb drive and a sense of relief and satisfaction at having completed this important process. These sessions are open to the public and free of charge.
Below are some useful resources that you can explore to learn more about advance directives and the importance of completing your paperwork.
Maryland Advance Directive: Planning for Future Healthcare Decisions