BENEFITS OF PALLIATIVE CARE
Who Can Benefit?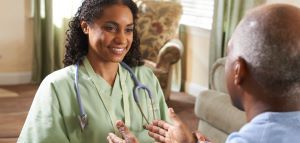 Palliative care is appropriate for anyone with a chronic, serious illness who is experiencing uncontrolled symptoms caused by the disease itself or as a side-effect from current treatment.
* Patients with Cancer, CHF, COPD, renal failure, Alzheimer's, and other chronic conditions
* Patients with a serious illness AND one or more of the following:
Frequent ER visits or hospitalizations
Uncontrolled physical or emotional  symptoms
Difficulty with accessing office-based care
Uncertainty about goals of care and/or caregiver distress
Individuals living with chronic, serious illnesses often find themselves in an unending cycle of health crises that lead from home to the hospital and back home again.
Patients and families benefit from:
Effective pain and symptom management
Improved quality of life
A plan of care based on your needs and goals
Maintaining independence & control over your care
Coordination of care and community services
Reduced hospital readmissions and Emergency Room visits  
Disease education and treatment options
Support to reduce the stress that may come with a serious illness
Extra layer of support in partnership with your provider and your caregiver