WHAT IS PALLIATIVE CARE?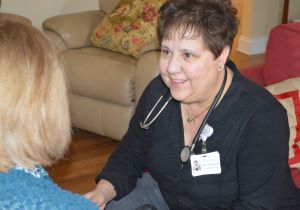 If you or someone you love lives with a chronic, serious illness, Talbot Palliative Care can help.

Palliative Care is specialized medical care for individuals with serious illnesses. Whatever the diagnosis may be, Talbot Palliative Care focuses on providing patients with relief from the symptoms, pain, and stress of a serious illness.
One of the important goals of palliative care is to improve quality of life for both the patient and the family, which in turn, can lessen repeat hospital visits.
Talbot Palliative Care provides clinical symptom management and oversight of your care and works closely with your community providers. Our focus is on alleviation of symptoms as well as meeting emotional and spiritual needs of patients and families.
Palliative care can be provided in conjunction with home health services and other treatment plans regardless of the patient's diagnosis, prognosis or age.
We Come to You
Talbot Palliative Care, a program of Talbot Hospice, will provide consultations and care in a wide range of settings, including the patient's home, assisted living or long-term care facilities, and nursing homes.
Talbot Palliative Care provides consultative services to help you find relief from pain and other symptoms. Our palliative care team consists of a Nurse Practitioner, RN Care Coordinator, Social Worker, Chaplain, and Pharmacist.